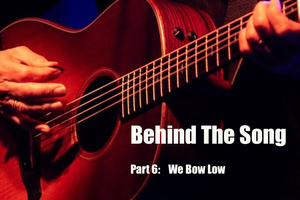 The sixth in a short series of stories behind the songs.   
This one is 'We Bow Low' from Tim Sheppard
The story behind the song "We Bow Low" goes back more than 50 years. I was raised in a strong, conservative Christian home. We attended church services every time the doors were open. Though our singing was hearty, I never saw any other physical expressions used in worship. 
Years later, when I first saw someone lift their hands in worship, I actually thought they were asking a question…seriously! Stirred by a hunger for something more, I began to search the Scriptures and began to understand the true meaning of worship and praise. 
Though "worship" and "praise" are often used interchangeably, they actually have different meanings. Worship refers to a way of life. Romans 12:1 (NCV) says, 
"So brothers and sisters, since God has shown us great mercy, I beg you to offer your lives as a living sacrifice to him. Your offering must be only for God and pleasing to him, which is the spiritual way for you to worship." 
So, worship is offering one's life to God as a living sacrifice. It is yielding one's life in submission to and adoration of God. 
Praise, however, is adoration of God that is vocal, audible or visible. God's Word exhorts us to outwardly express our love to God. Here is Psalm 100:1 with the original Hebrew words in parentheses and then an explanation of their literal meanings. 
"Enter into his gates with thanksgiving [todah], and into his courts with praise [tehillah]: be thankful [yadah] unto him, and bless [barak] his name." 
"Thanksgiving" [todah] – To extend the hands in a sacrifice of praise, thanksgiving, or thank-offering (used in connection with offerings). 
"Praise" [tehillah] – To sing, to laud (perceived as involving music, especially singing). 
"Be thankful" [yadah] – To worship with extended hands, to throw out the hands, to give thanks (the second most frequently occurring word translated "praise" in the Old Covenant). 
"Bless" [barak] – To kneel, to bless, to salute, to declare God the origin of power for success, prosperity, fertility. 
You can worship without anyone around you knowing, but you cannot praise God without everyone around you knowing, because praise is worship that is active, assertive, demonstrative and open. 
As I grew in my desire to praise God biblically, I became more outwardly expressive, not because I felt comfortable, but because I saw from God's Word that He finds pleasure in my praise. 
So how does this tie into "We Bow Low"? Some of these outward expressions of worship have been almost completely lost. For example, I rarely see people bow or kneel in worship, yet this expression is so vital in humbling ourselves before God. 
We are actually commanded to bow. Psalm 95:6 (KJV) says, "O come, let us worship and bow down: let us kneel before the LORD our maker." Psalm 99:5 (NLT) commands us, "Exalt the LORD our God! Bow low before his feet, for he is holy!" 
With "We Bow Low," I felt led to write a song that would invite others to express their worship to God through bowing and kneeling. I've been blessed to see hundreds and even thousands at a time respond to the invitation to bow before the Lord. 
I invite you to watch and listen to "We Bow Low" HERE. You can also purchase the song as part of Gateway Worship's "Walls" live recording by going HERE.