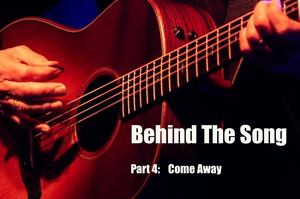 The fourth in a short series of stories behind the songs.  
Come Away
I wrote a song called "Come Away" in 1996.  It would become the title cut and the name of my album.  Kingsway Music (now Integrity) released it on a night that Noel Richards, Matt Redman and I led worship in London, England's famed Royal Albert Hall.  I remember walking out on stage that night, amazed at how a song birthed in a season of quiet desperation had become a loud encouragement for people to walk in God's gift of rest. 
Mahatma Gandhi once said, "There is more to life than increasing it's speed." Prior to writing "Come Away," I had been trying to live life in the fast lane.  Even before my feet hit the ground most mornings, I felt behind. I started feeling I had become a dumping ground for unhealthy amounts of stress. So, I worked harder and put in longer hours, thinking I would catch up eventually. It didn't just impact me. My busy lifestyle didn't leave margins for healthy amounts of time with my wife and children. I read 'how to' advice on time management and establishing priorities. But, as a pastor, worship leader\song writer, and speaker, I felt everything I was doing was a top priority!  My work\life balance felt out of control.  My health started showing signs of wear and tear.  My doctor advised me to think about getting a less stressful job.  It became obvious that my life rhythm didn't allow space for what I needed most…rest and peace.  One morning while listening to a favourite song by the band, The Eagles, a line in the chorus jumped out at me, "Take it easy, take it easy.  Don't let the sound of your own wheels drive you crazy.  Lighten up while you still can."  Sometimes a good song can inspire a 'Kairos moment' (a right, critical or opportune time for action).  I realised the song, 'Take It Easy' represented something I only hoped for but not currently on my real life, set list.  It was time to act. 
I had to face the fact that I obviously was not good at taking it easy.  And I didn't know how to lighten up.  I knew something had to give.  So, I prayed asking God to help me find a path into a better life rhythm.  In my spirit I heard, "You need to come apart before you come apart."   That sounded familiar.  It was another way of saying the words Jesus said to His disciples in Mark 6:31, "Then, because so many people were coming and going that they did not even have a chance to eat, Jesus said to them, "Come away with me by yourselves to a quiet place and get some rest."  Hmm, maybe there's a reason that remembering to rest is #4 on God's top ten list (Exodus 20:3-17). 
Many have identified with the 'Come Away' lyrics, "Life gets so busy, feel like a leaf in the wind.  Years flying past, can't remember where I've been."  My countrymen and women are good at doing busy!  I felt like I could have been the poster child for busy Americans!  Busyness is an unspoken value in our nation that drives us to achieve goals. It's often connected to having a sense of importance.  I was learning the hard way that being too busy doesn't always add to your importance. In fact, it often takes you away from what is most important in this life…walking in rest with a sense of peace.  The verse continues, "Just when I think I'll come apart at the seams, a little voice whispers, then it screams out to me, Come Away, Come Away, Come Away. Let's stop for a while."  The last line in the song shows my determination to get over my addiction to busy, "So I'm throwing out the paper, turning off the T.V.  Gonna find a quiet place and let the Lord speak to me." 
My friend, Pastor Brady Boyd wrote a book about Sabbath rest called, "Addicted to Busy."  For many, a 'sabbath rest' sounds like a law to keep rather than a gift to enjoy. 
There is an important key to unlock rest in Pastor Brady's profound statement that would do us all good to remember, "Rest isn't an obligation, it's a gift." 
When you can, take some time to listen to my song in its entirety?  I encourage you to get honest with yourself about your life rhythm.  If you feel you are coming apart at the seams, you might listen for that still small voice that calls out, "Come Away, Come Away, Come Away.  Let's stop for a while."  I hope this song inspires you to lighten up while you still can.  I would love to hear your thoughts or comments about the song.  You can listen to "Come Away" and download the lyrics HERE.