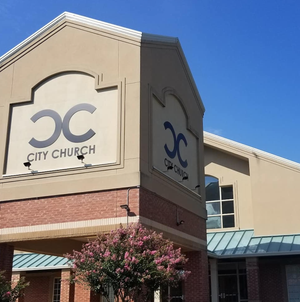 "What's in a name?  That which we call a rose by any other name would smell as sweet."  William Shakespeare - Romeo and Juliet. 
People called us "Tech Fellowship" when we began meeting on the Arkansas Tech University campus during 'The Jesus Movement.'  We discovered that others will give you a name if you don't name yourselves.  It was a privilege of some friends, my wife June and me to name the church we founded in Russellville, Arkansas in the fall of 1972.  We named it "A Fellowship of Christians."  Names are important.  They represent our hopes and dreams.  Our vision was to be an inclusive church in which anyone who called on the name of Jesus as Lord and saviour could feel welcome.  Many hundreds of people have been blessed and inspired by our church these past 40+ years.  Our church has been a "hot house" for raising up people who have served at home and been sent out to 60+ nations to spread the good news of Jesus.  We have been a worshipping church, enamoured by His presence.  And to our delight, our home-grown songs have been sung across the world. 
Most of the time we referred to the church as "F.O.C." Later on we began calling it "The Fellowship."  All along we've emphasised those early values of relationship, worship, the good news of the Kingdom and being a prophetic people.  We updated terms but those values haven't changed.  We are a church centred around Jesus and we greatly value the presence of God.  We believe that God still speaks.  We remain committed to doing our best to obey what we hear. 
I heard a word in 2008 to pass the torch to a successor God would show me.  In 2015 I asked Chris Abington if he would consider becoming the Senior Leader of The Fellowship.  Fortunately, the Lord had already spoken to Chris about it.  He agreed.  Our leaders began a specific process toward transitioning leadership in 2017. June and I transitioned out of the Senior Pastor role we had served in for 45 years into an extra-local ministry.  Although we continue to be involved in leadership as Founding Pastors of The Fellowship, we feel a fresh outward call to our city, state and the nations. 
In 2016 while Chris and I attended a conference at Bethel Church in Redding, California, Chris saw a picture during prayer.  He saw two C's turned outward and underneath it written, City Church.  He saw this as a visible reminder that God wants what's inside of us to get out.  He brought this to the elders.  Sensing that God was shifting the landscape, we agreed. We feel Fellowship of Christians has been an excellent name for where we've been and continues to represent the core values of who we are.  Those values won't change.  We will still gather as a church.  With an increasing burden that our church should turn outward we hope to become 'a church for our city.'  We decided together to change our name.  The new name is not a re-brand.  It is a name that points to where we're going as we embrace 'the new' the Holy Spirit is leading us toward. 
Our new name is CITY CHURCH.  It is our hope that this new name will help us unite with others to see the city of Russellville and beyond spiritually transformed.  We desire to better reflect God's redemptive purpose He had in mind all along for our city.  We want to go beyond meeting in buildings, beyond budgets and the borders we put up.  He is calling us to carry His presence into every area of life.  Our first initiative as City Church was to pay off $3 million dollars in bad medical debt for people in Pope, Johnson & Conway Counties.  We want to be a blessing to those around us in real ways.  I feel this is a first fruit of many good things to come. 
Names are important.  I believe William Shakespeare's quote is appropriate for us: "What's in a name?  That which we call a rose by any other name smells just as sweet."  It is a blessing to be involved with a church that continues to value hearing from God and seeks to obey what we hear.  It is with our agreement and our blessing that June and I embrace the new name of this multi-generational church now called, "CITY CHURCH."