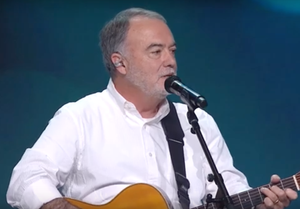 We've all been there.   Middle of the night.  All is quiet.  All should be at peace.  Except for one thing:  We can't get to sleep.  Brain won't turn off.  Anxiety begins to rise for fear of not getting enough sleep to have energy for a busy day tomorrow.  On several occasions lately I have been asked to pray for people who are having trouble sleeping.  I felt prompted to ask an entire congregation not long ago for a show of hands for anyone having trouble sleeping.  An astonishing 40-50% raised their hands!  Just to make sure it wasn't a fluke, I asked another congregation the same question and received the same response.  Then it hit home with me.  I was having one of those sleepless nights. I tried reading boring stuff.  Counting sheep didn't help either.  Finally I prayed, "Lord help me get to sleep."  I heard in my Spirit, "Be quiet."  Then the most amazing thing happened.  I could hear a song being sung over me like a lullaby I had never heard.  Zephaniah 3:17 tells us, "He rejoices over us with singing."  But I didn't know that the Lord also sings lullabies to us to bring comfort…and sleep.  Before I knew it I was sound asleep.  When I awoke the next morning I began to sing the song I had heard in my Spirit.  I remembered the melody and every word!  I wrote down the lyrics and put chords to the melody.  A week or so later I showed it to my friend, Noel Richards who helped me simplify the arrangement.  And Noel told me he woke up singing it the next morning. 
I asked the Lord, "Is this lullaby just for me or should I share it with others?"  I sensed in my Spirit that the song was for all ages—but for a time I would especially sing it over adults who were struggling to sleep.  An adult lullaby?  I wondered if it would work for others as it had for me.  I had the privilege to sing it over a congregation at Gateway Church in Dallas, this last week. I hope this video will be a blessing to you as you watch it.
I have also included lyrics and simple chords.  Feel free to use the song. 
I've found it useful to reflect on a couple of scriptures to bring rest to my soul: 
"When you lie down, you will not be afraid, when you lie down, your sleep will be sweet." Prov. 3:2 
"In peace, I will both lie down and sleep; for you alone, O Lord, make me dwell in safety."  Ps. 4:8 
Good night friends.  Sleep well