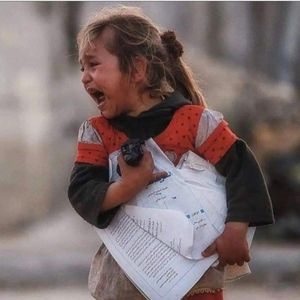 1 Timothy 4:1: "Now the Spirit expressly says that in latter times some will depart from the faith, giving heed to deceiving spirits and doctrines of demons." 
Like so many of you, I have been deeply troubled by the tragedy in Afghanistan playing out on our daily news feeds.  I have prayed, calling out to God to protect the innocent Afghan people caught in the crossfire of this power struggle between America and the Taliban.  Visual images such as a picture of a little Afghan girl fleeing for her life have been especially heart wrenching for me.  After many prayers I stopped long enough to ask the Lord to speak something to me to make sense of it all.  When we ask the Lord for understanding and take time to listen often an answer does come.  And sometimes the Lord speaks through unexpected sources.  I have learned to listen to that inner 'nudge' in my spirit like I would an 'ALERT' flashing across my cell phone or computer screen. 
This happened while I was reading an article by Raouf Halaby, a guest writer on the 'Perspectives' page of Arkansas Democrat-Gazette on Aug. 22, 2021.  The article about the withdrawal of U.S. troops from Kabul was entitled "Déjà vu: Saigon, Vietnam, 1975; Kabul, Afghanistan, 2021."   Dr. Halaby is a naturalized U.S. citizen born in Jerusalem to Anglican parents who came to Arkansas in 1965.  After teaching for 42 years, he is now a retired Professor Emeritus of English and Art at Ouachita Baptist University in Arkadelphia, Arkansas.  He is currently a member of First Baptist Church in Arkadelphia and is a writer associated with www.counterpunch.org 
As I read the article, I was stunned to read Dr. Halaby's reference to "A Spirit of Insanity" mentioned toward the end of his otherwise scholarly article.  He wrote about "two of America's tragic flaws—hubris and arrogance" as seen in the fall of Saigon in 1975 and being repeated in Kabul in 2021. As he built his case for learning to avoid these tragedies by understanding the underlying motivations, Dr. Halaby suddenly pivoted to mention "A Spirit of insanity" being loosed across the world.  His exact words were, "Instead of a well-planned military action to bring those responsible to justice, Lyssa, the Greek goddess of mad rage, frenzy, and rabies and her close kin, Manea (mania), the goddess of madness and insanity, blitzed the White House, the Pentagon, Congress, every media outlet, and every living room across the nation."  Whether you agree with Dr. Halaby's conclusions or not, the article is worth reading to gain perspective. 
When I read Dr. Halaby's reference to an ancient evil spirit, I sensed the Holy Spirit could be answering my prayers for understanding of the times.  The first thing that popped into my mind was a verse in 1 Chronicles 12:32: "From the sons of Issachar were men who understood (discerned) the times and knew what Israel ought to do."  It was a familiar verse that I have often referenced as a worthy goal for spiritual leaders.   It can be obvious to see what is going on in the world when we take time to observe, ask questions, read, pray, and listen.  It is another thing to know what to do.  I am weary of pundits pontificating on social media and commentary news shows.  They seldom offer ideas for possible solutions.  In my opinion in their quest for ratings these fear peddlers seem bent on stirring up more rage, more frenzy, more anxiety, more division, and more insanity.  I find myself agreeing with Dr. Halaby that "A Spirit of Insanity" has been sent to steal, kill, and destroy people.  This evil spirit clouds our vision and alters our ability to make wise decisions as it pushes us to look through a filter of fear rather than faith.  With this evil spirit coming at people from all directions, many are just giving up the good fight Christians are called to engage in (2 Timothy 4:7).  Christians and non-Christians all over the world seem to feel they have no choice but to go along to get along.  And so, the schemes of the evil one continues to encroach on our minds, exploiting fears and anxieties with the goal of driving us crazy. 
A pastor friend remarked recently, "As I listened to reports from Afghanistan on the news the other night, I stood up and shouted at the screen, "That's insanity!" Many people have a desire to do something about stopping this "Spirit of Insanity."  But what can we do?  What should we do?  I have reflected on this, searched the scriptures, talked to friends, and asked the Holy Spirit to help me know what to do.  I have written down some ideas as a place to start for me. 
Feel free to use the following lists to gain perspective.  And consider incorporating the following into whatever the Holy Spirit directs you to do.  But please, let's do more than talk about it among ourselves.  Let's not be satisfied to add more rants to the noise in our conversations or Twitter posts.  Let's do something, no matter how small or tentative our steps might seem. Join with me in praying for more understanding so that we can see what to do in these significant times.  Here is my best shot at ideas on where to start at this point: 
What I am discerning about the times:
1  We are living in the Last Days. (Paul's words in 2 Timothy 3:1-5 read like current news headlines.) 
    The enemy of our souls has sent spirits of rage, frenzy, and insanity to literally drive people crazy. 
2  "Suicides among adolescent girls surged by more than 50% during the pandemic." (CDC) "Since 2018 the most notable increase in anxiety related disorders from 7.97% to 14.66% was among 18–25-year-olds." (Journal of Psychiatric Research.) 
3  A spirit of greed is the underlying cause of most wars and conflicts.  Eccl. 5:10; Luke 12:15 (Greed gives birth to materialism and hatred. It causes us to feel we never have enough.  This causes an unquenchable longing for more to rise in us.) 
What I am hearing that I should do for myself: 
1  Stop listening so much to the endless cycle of 'Breaking News' from the Right and the Left. (Philippians 4:8) 
2  Use that time to get informed from reliable sources (hard to find, but out there). (Matt. 7:7) 
3  Pray.  Ask the Holy Spirit to give you an understanding of the times to know what to do. (Jer. 33:3; Isaiah 30:21) 
What I am hearing and seeing that I can do for others: 
1  Resist the enemy by doing spiritual warfare through prayers of proclamation and declaration.  At times I speak directly to the specific demonic power that is seeking to shackle people in chains of fear.  For example, I proclaim, "Spirit of Insanity, the Lord rebuke you." (Jude 1:9) 
2  Move in the opposite spirit. (Romans 12:21; 1 Peter 3:9-13) 
Stand against a spirit of rage and frenzy by sowing peace, working for peace, and walking in the way of peace.        (Proverbs 15:1) 
Don't give audience to voices of rage, fear, and insanity that are so loud across the world right now.   Rather, ask for wisdom and understanding.  (James 1:5) 
Stand against greed by being generous. (Proverbs 11:24-26 – The Message) 
3  See yourself as an ambassador for Christ.  Do this by making yourself available to the Lord wherever He wants you to go and to whomever He sends you.  (2 Corinthians 5:20) 
4  Find practical ways to be kind and generous to the poor.  (Proverbs 19:17) There are credible ministries and organizations working into Afghanistan, Haiti, and a myriad of other hot spots such as West Coast towns being ravaged by fires.  I encourage you to look for ways to serve or to give money to get relief into those areas where people have been displaced.  Some are finding ways to help rescue those who are fleeing from captivity to get out of danger. 
My words are not intended to stir up more fear or anxiety.  My intention is to inspire you to not be afraid to resist the enemy who wants to sow insanity into your life.  I believe it is easier to land blows in a fight when you can see your enemy and understand his tactics.  The Apostle Paul, no stranger to spiritual warfare, gives some good tactical advice.  In 2 Corinthians 10:3-5 Paul shows that believers in Jesus are expected to be mighty in battle.  "For though we walk in the flesh, we do not war according to the flesh.  For the weapons of our warfare are not carnal but mighty in God for the pulling down of strongholds, casting down arguments and every high thing that exalts itself against the knowledge of God, bringing every thought into captivity to the obedience of Christ."  Ephesians 6:10-18 informs us of those weapons given to believers in Jesus to defeat the enemy.  "We have been equipped with weapons of warfare. (The belt of truth, breastplate of righteousness, feet fitted with the readiness of gospel of peace, shield of faith, helmet of salvation, and the sword of the Spirit.) We can pray in the Spirit on all occasions with all kinds of prayers, and requests." 
Some may be asking themselves, "Where is Jesus in all this?"  The answer is in His name.  His name is Emmanuel, the God who is with us. (Matthew 1:23) What is Jesus not doing?  He is not giving His people a spirit of fear that can lead to insanity.  What is Jesus doing?  He is giving His people a spirit of power, a spirit of love, and soundness of mind. (2 Timothy 1:7) I encourage you to remember who you are and to pray until you hear direction from the Holy Spirit.  Then find ways to do what you hear. 
I'll close with exhortations from Apostles Paul & James as an encouragement to you, dear ones. "And pray in the Spirit on all occasions with all kinds of prayers and requests. With this in mind, be alert and always keep on praying for all the saints." (Ephesians 6:18) "Be a doer of the word and not a hearer only." (James 1:22-25) I believe as you take these steps in faith you will be given understanding of the times and so you will know what to do.  I am confident that with every step of faith you take, you will find Jesus waiting to meet you there.