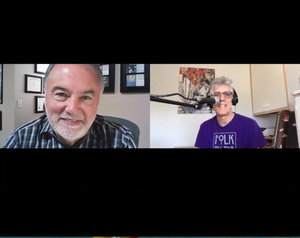 UK singer/songwriter and worship leader Dave Bilbrough has been recording a series of interviews under the title "Hidden Kingdom". In the following paragraph, Dave explains his vision for the series: 
"Exploring signs of God's kingdom revealed through the arts. With each episode I'll be interviewing speakers, poets, songwriters, artists, entrepreneurs and friends I've made through the years as a worship leader; hearing their stories and how they communicate in their various spheres of influence. 
These are conversations to inspire us to think more deeply and more imaginatively about how we use our own gifting to make known facets of the hidden kingdom to the modern world".
Dave and I have been friends for many years, so it was a great pleasure recently, to spend some time being interviewed by him. This interview is now available as a podcast under the title: "The Voice of the Prophet & the Heart of a Pastor: In Conversation with Wayne Drain"
To listen to the podcast please click on the image above, or the title. It will take you to Dave's podcast site.
PS: During this interview I talk about my song "While You Are Sleeping" and if you haven't yet heard it, please click this LINK