2019 is blowing the doors off our expectations! 
While reading through the book of Amos in late 2018, the Lord spoke two things into my spirit:
#1. "2019 will be a year of increased productivity."
#2. "This new year will begin a season in which the reaper will overtake the plowman" (Amos 9:13-15).
I'm interpreting that to mean we should pray for and expect an exceptionally fruitful year.  We saw tangible evidence of that February 6-9 when Arkansas Awakening hosted Evangelist Todd White for a Power & Love event in Little Rock, Arkansas. 2500+ people came representing 100 area churches!  After powerful times of worship and equipping in the mornings, attendees fanned out beyond their comfort zones to share their faith across the city.  In the evenings we heard powerful testimonies.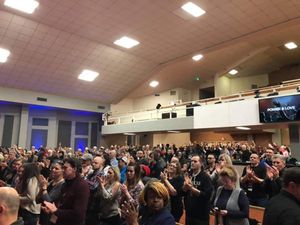 Arkansas Awakening
Folks told of moving in words of knowledge and gifts of prophecy teaming up with evangelism gifts.  This resulted in many salvations and healings.  Participants spoke of an increased sense of faith, hope and joy.  I believe we have entered a season of spiritual awakening in Arkansas and right across the world. As the world gets darker God's people are shining brighter.
Some personal highlights: 
Since January, I've had the joy of praying with 14 people to come to salvation.  I loved ministering in the Naturally Supernatural Conference for Anglican churches in Watford, England where a number of people came to faith and were filled with the Holy Spirit.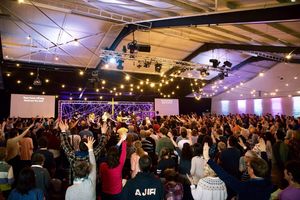 Naturally Supernatural Conference
Following the conference, I completed another training for prophetic presbyteries.  Our new teams did seven presbyteries in U.K. cities last year and we just did another one in Molesey.  In addition, our prophetic teams ministered effectively during the Pioneer Leader's Conference in Manchester.  Some of our Russellville team had the significant opportunity to pray & prophesy over Members of Parliament in London during this time.  I enjoyed being with our friends at New Generation Church in Sidcup and speaking to their congregation.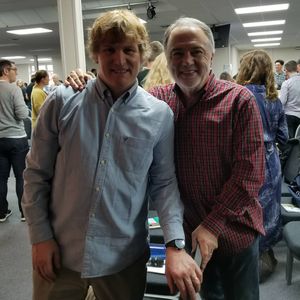 With Paul Weston at New Generation Church
My time in U.K. came to an end by serving at 'Word & Worship Summit.' It was a gathering of international worship leaders, song writers, musicians, creatives and recording executives associated with Integrity Music in Eastbourne.  It has been encouraging to hear that the prophetic words given were so "spot on" during all the events.   Something is shifting in the spiritual landscape in the British Isles.  Pray for a fresh, world-impacting move of God's Spirit in the land that produced the likes of John & Charles Wesley and Evan Roberts.  We'll see God do it again!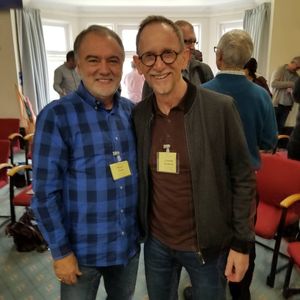 With Graham Kendrick at Worship & Word Summit
Request your prayers and support: 
In just a few days June and I will depart for New Zealand for the 50th Anniversary Celebration of Scripture in Song founders, David & Dale Garratt.  We feel it is important to participate in honoring this couple who were so influential to us and the entire Body of Christ.  We have been blessed to receive donations of $3000.00 so far to help cover the travel costs and are hoping to raise the remaining $1500.00 before departing on March 25th.  Please pray with us for a safe journey. 
Looking Ahead: 
Wayne and the leaders of our church are planning a "Re-Set Gathering" on May 2-3, 2019 here in Russellville.  This is for anyone serving in a Kingdom leadership role in the church or marketplace.  If you are looking for space to experience God's presence, hear His voice through the prophetic, and be encouraged to influence the culture, this is for you.  See more detail by going to www.myfellowship.tv. We hope you'll join us for this time to be encouraged and refreshed.                 
We are responding to invitations to minister during rest of 2019.  You can see where we'll be and when we're available on our web site www.waynedrain.com by clicking on SCHEDULE.  You can also click on the DONATE button at our homepage, or send a check should you like to give an offering. 
With love and appreciation, 
Wayne & June