Here at the end of 2017 I'm thankful for all the friends who keep up with June and I throughout the year. 
CHANGE has been the big word for our family this year.  I want to let you know what has been happening with us during this significant time.  My dual call to Pastor and Prophesy to the nations seems to be expanding. 
Along with ongoing local church responsibilities, 2017 has been a year of increased travel in ministry. 
Stateside:
I have ministered in large and small congregations in Arkansas, Texas, Mississippi, Delaware, Florida and Colorado.  I now serve as an advisor to 5 churches beyond my own.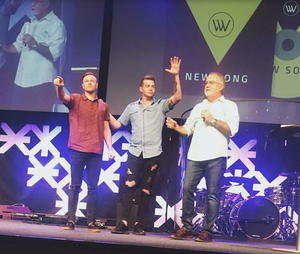 (Estero, Florida)
With three other Arkansas church pastors I initiated "Arkansas Awakening, Calling generations to the fullness of Jesus."  (This is about hosting gatherings for worship and prayer for a multi-generational, spiritual awakening in Arkansas.)  We have had four gatherings so far with increasing participation.  I believe a new Jesus Movement is coming!  (Next gathering is January 19th @ 7 pm at The Fellowship.)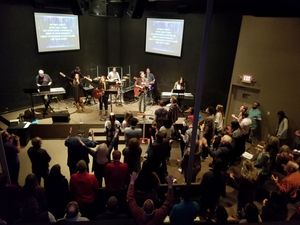 (Arkansas Awakening event)
United Kingdom:
I ministered in the UK on three separate trips this year.  A highlight was being a speaker in the "Naturally Supernatural Conference" for the Anglican Church with several thousand folks attending.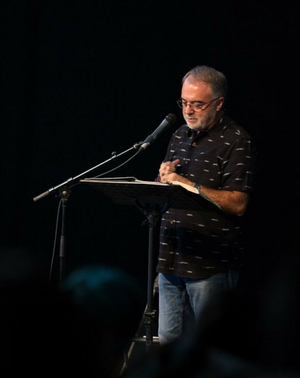 (Naturally Supernatural Conference, UK)
I spoke in the Pioneer Leaders Conference in Manchester just a few weeks before the terrorist bombing there.  My friends Noel & Tricia Richards and I did an 8 city concert tour in February.  I was privileged to lead worship in some churches on my own as well.  Another highlight was being a 'presenter' for a three hour, Good Friday Show for United Christian Broadcasters Radio Europe.  I'm told it went out to several million people around the world over Easter Weekend.  It was amazing to share the gospel to that many people at one time!  It was my joy to begin training teams in Prophetic Presbyteries in July and then to minister together in five presbyteries during December.  All in all I visited 23 cities ministering in churches, conferences, concerts, Lark in the Park outreach and various leader's groups. From that first day I set foot on the tarmac in England in 1979, I have been blessed with God's favour in the land where so many world-wide awakenings began. 
By God's grace, I had the privilege of praying with 63 people to receive salvation in 2017! 
This has been a year of transition for us.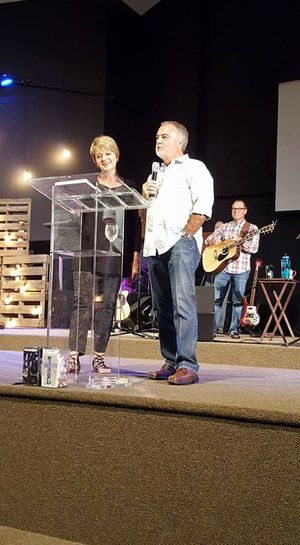 (Passing the baton at the 45th Anniversary - Fellowship of Christians)
June and I passed the baton of Senior Pastors of Fellowship of Christians this past September.  The transition to our friends Chris & Tara Abington has gone well and The Fellowship appears to be healthy.  Lots of purposeful changes are going on across the church that I feel are helpful and timely.  We know that change isn't always embraced immediately, but in a rapidly changing world an old saying is worth repeating: "Irrelevance is a high price to pay for refusing to change."  We hope The Fellowship will be a multi-generational church and will embrace whatever necessary changes it takes to pass on our core values and historic foundations to our sons and daughters to build upon.  And we hope when the time comes their generation will be able to do the same. You can read more about my thoughts on transitions in my blog 
What's next? 
I will go to a part time role at The Fellowship beginning in January of 2018.  That means along with the lower salary from The Fellowship, June and I will depend on ministry gifts from travel and donations from supporters to make ends meet.  We have started Wayne Drain Ministries as a non-profit organization so donations are tax deductible.
If you would like to give regularly or as you are able we would deeply appreciate it. 
You can give a couple of ways.  You can send a check to Wayne Drain Ministries at P.O. Box 304 Russellville, AR  72811 or you can go donate with PayPal or your Card using the button below.

You can also keep up with my schedule and blogs about what I'm up to on the web site.  I will send periodic updates like this unless you request I don't. 
Thanks for listening and thanks for caring.  Do communicate your prayer needs so June and I can pray for you as we hope you will pray for us. 
Blessings, Wayne